03 Nov

Interventional Bronchoscopy

Frank Hull MD, Director of Interventional Pulmonary Broward Health Medical Center

Frank Hull, MD, along with Broward Health, Offers Complete Interventional Pulmonary Program for Diagnosis of Patients with Suspected Mediastinal Disease and Lung Lesions

Each year, more people die of lung cancer than of colon, breast, pancreatic and prostate cancers combined.

New minimally invasive bronchoscopic technology may help patients with lung cancer get earlier accurate diagnoses.

Those patients with benign lesions may then avoid unnecessary invasive procedures or surgeries.

 At Broward Health Medical Center, we are able to offer BOTH ENDOBRONCHIAL ULTRASOUND AND NAVIGATIONAL BRONCHOSCOPY (LUNG GPS)

ENDOBRONCHIAL ULTRASOUND-TBNA AND ELECTROMAGNETIC NAVIGATIONAL BRONCHOSCOPY (LUNG GPS)], are minimally invasive procedures that aid with earlier diagnosis and staging for patients with lung lesions.

Lung cancer patients can be diagnosed and staged correctly with these procedures.  Patients with benign conditions or those with inoperable mediastinal disease can potentially avoid surgery.

The EBUS-TBNA (endobronchial ultrasound transbronchial needle aspiration) system is recognized by the latest ACCP Lung Cancer Guidelines as the best first test for staging of the mediastinum.

EBUS-TBNA uses a bronchoscope equipped with ultrasound capabilities to "see" beyond the walls of the airways to detect in real time the precise location of lymph nodes.

The lymph nodes can then be sampled using the EBUS TBNA needle.

EBUS-TBNA technology provides visualization of the target lymph node and the needle so that the physician can visually guide the needle in real-time to the intended site to obtain the sample.  Dr. Frank Hull at  Broward Health Medical Center implemented this technology and has been performing this procedure for the last 3 years.

Electromagnetic Navigation Bronchoscopy™ procedures, also known as ENB procedures, are performed with a device known as the superDimension™ navigation system with LungGPS™ technology.

This allows physicians to navigate and access difficult-to-reach areas of the lung from the inside.

The Bronchoscopic navigation system, which is a GPS-like technology, aids in the diagnosis of lung cancer and overcomes limitations of traditional diagnostic approaches including bronchoscopy, needle biopsy and surgery.

The technology guides us through the complicated web of pathways inside the lungs, and we're able to access and sample target tissue throughout the entire lung without surgery or a needle biopsy. This technology aids with earlier diagnoses and may be a less invasive treatment for patients with lung cancer.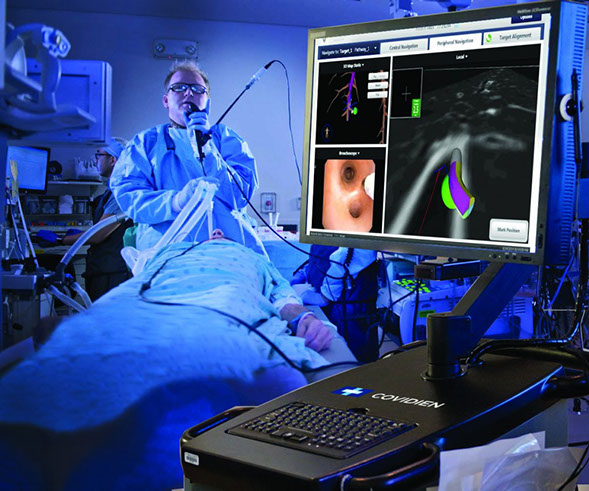 INTERVENTIONAL PULMONARY IS NOT JUST FOR DIAGNOSIS OF LUNG CANCER BUT OFFERS PALLIATIVE TREATMENT OF ENDOBRONCHIAL LESIONS TOO.
LASER BRONCHOSCOPY and ENDOBRONCHIAL STENTS, as well as other bronchoscopic tumor debulking techniques, are performed by Dr. Frank Hull  at Broward Health Medical Center for relief of obstructive symptoms in patients with endobronchial lesions from cancer.  Argon Plasma and Electrocautery are also utilized when appropriate.
PleurX/ TUNNELLED CHEST TUBE  is also performed by Frank Hull, MD  at Broward Health Medical Center for management of malignant pleural effusion.
This can be performed as an outpatient in the Endoscopic Suite.
The patients pleural fluid can then be drained at the patients home until there is pleurodesis/ adhesion of the visceral and parietal pleura. The median time to this point/pleurodesis is three weeks.
When there is no additional pleural drainage, the catheter can be removed.